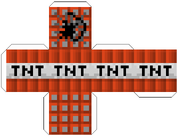 Spark Industries is a TNT making company owned by Spark_5. It is extremely rich and has a TNT factory. It has the goal of shipping TNT all across Minecraftia.
Corporation
Spark Industries has made a TNT factory, a Herobrine-themed carnival called E Land, and many mines. When they make TNT, they sell it to the military and the miners who like to mine with TNT.
Locations
Spark Industries are mostly in Machinima City, but it has things all over Minecraftia. This includes many NPC villages.
Spark Industries

Owner

Spark_5

Location

All across Minecraftia

Type

Company

Known for

Making TNT

Main Base

Spark Tower

Affiliation

Spark_5

Company Type

TNT Making
Ad blocker interference detected!
Wikia is a free-to-use site that makes money from advertising. We have a modified experience for viewers using ad blockers

Wikia is not accessible if you've made further modifications. Remove the custom ad blocker rule(s) and the page will load as expected.