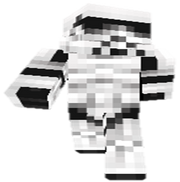 Pixelrole is a fairly new Minecraft player. His real name is James Richardson, his skin is a storm trooper from the Star Wars franchise. He is well known for his Minecraft builds and an incredible technical ability
Personality and Story
Formerly a dimensional scientist employed by the dark side, Pixelrole was working on getting to a new dimension so the Empire (Led by the Emperor and commanded by Darth Vader) could collect resources safely. He and his team discovered Minecraftia, a completely new dimension with the same basic physics and concepts, but all made out of blocks. When the Death Star was destroyed, Pixelrole escaped death by jumping into the portal before it was annihilated. It is currently unknown if anybody else escaped through the portal, but the case study of the destruction of the satellite claimed it was 'very unlikely'. Pixelrole is known for allot of incredible buildings that are created in Minecraft, most adopting the modern, slick style that was used to construct the Death Star. Many plea he puts his work on websites for the world, but there are no projects of his currently online.
Writing and Proposed Shows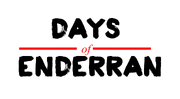 It is rumored that Richardson is planning a series of his own called 'Days of Enderran'. The plot surrounds him entering a seed that has mysterious buildings. After reading a note from a long lost King of Enderran, it becomes clear that previously, another human who opened up the seed called 'Calgar', became a hacker and took over the once great Nation as its king. Pixelrole must battle Calgar and Herobrine with some help from friends in the Nation of Enderran and potentially some familiar faces from the Star Wars franchise.
Richardson has been considered for many script writing and directing roles outside of his own creations by the Minecraft fan-base. One is Shadow of Israphel, but Pixelrole said that there was 'an extremely slim chance'. Another is a lets play Minecraft series for Sky does Minecraft, but again he confirmed that it was also an unlikely possibility
Ad blocker interference detected!
Wikia is a free-to-use site that makes money from advertising. We have a modified experience for viewers using ad blockers

Wikia is not accessible if you've made further modifications. Remove the custom ad blocker rule(s) and the page will load as expected.