Original_Leon (Also known as Leon or leon6969)
Original_Leon whas first known as leon6969 (however this account whas hacked somehow) 
Original_Leon
[[1]]
*note that he has 2 different skins he changes depending on the current season

Name:

Original_Leon (leon6969)

Gender:

Male

Pvp skill ★★★

Minecraft wisdom ★★★★★

Build skill ★

Redstone skill ★★ (general) ★★★ (traps)

Mining ★

Others ★★★★

Birthday

19 september

First minecraft day

15 January 2012 (1.1)

Known for

Sociality wishdom and hate for sheeps
Original_leon is a dutch minecraft player who has a big hate To sheeps, He is most known for his socality, Wishdom, And Pvp. He seems to have a preference to flying or Water Houses. He seems to have bad memorys from mining. (This Is also the reason why he is really bad at it)
Corneria
Original_Leon Claims that he whas a general in a faction called "Corneria" (Based on the StarFox Corneria)
Not much is known about this faction except that it whas very powerful and that it had over 200 members.
The server where the faction whas located is unkown.
Only a few photos have ben taken and will be added soon.
The founder and leader whas a player called "silversag"
Original_Leon whas the general of the 2nd defence line (the faction had 3 lines of defence whit each its own Properties
As far Original_Leon can remember the faction lasted for almost a year
Corneria`s terrian whas so big that it whas devided in multiple sectors (mostly a sector whas one biome) The names are based on the planets from starfox
Corneria had many allys but also a lot of enemys
Corneria only lost one war wich whas also the last war the server would have
The server owner whas a enemy too
Around a week before corneria whould gone forever all enemys from corneria started to become one Massive faction
The last war by the "allyd enemys" resulted extreme damage wich made the server overload resulting a Complete crash
The server whas never found back agian and so all members are.
Cornerian defence
Corneria had several weapons and buildings wich would support defence and attack
It had flying buildings above (and/or) around the cornerian terratory these could contain stuff like
Food and weapons
Crops and nehter portals
dispensers & TNT cannons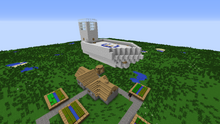 Ad blocker interference detected!
Wikia is a free-to-use site that makes money from advertising. We have a modified experience for viewers using ad blockers

Wikia is not accessible if you've made further modifications. Remove the custom ad blocker rule(s) and the page will load as expected.