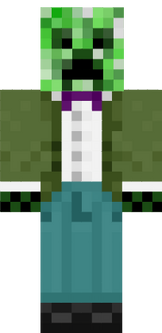 Mynlas

Job:

griefer, head of The TNT Griefer Organization

Species:

Creeper

Weapons:

TNT, flint and steel

Residence:

Lyfer server

Notoriety:

Wanted in different servers
Mynlas is a griefer and the head of the organization known as The TNT Griefer Organization.
Associates
Blade93: Works for Mynlas as a mercenary
Moos: A cow player and Mynlas's right hand man
Griefer description
Mynlas founded The TNT Griefer Organization in 1.7.2. Mynlas wears a gentleman's suit and speaks with an English accent. What makes Mynlas so dangerous is that he appears to be a harmless player who wouldn't grief at all, but in reality, he is a psychopath who enjoys griefing servers with his TNT. Mynlas is so notorious, head admins on the servers he's griefed have sentenced him to instant ban.
Ad blocker interference detected!
Wikia is a free-to-use site that makes money from advertising. We have a modified experience for viewers using ad blockers

Wikia is not accessible if you've made further modifications. Remove the custom ad blocker rule(s) and the page will load as expected.