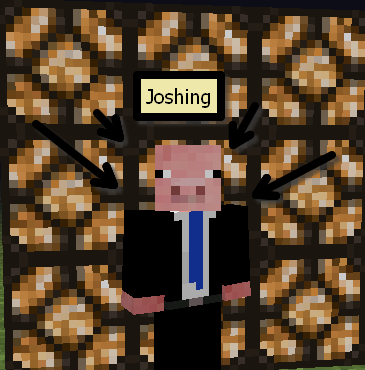 Joshing
is a semi-famous Minecrafter and is best known for his style of Architecture.
Building
The way Joshing became good at building was: He made a Minecraft Single Player world, and continually kept building structures; of many shapes sizes and types.
Here are some direct tips from him:
"Never give up"
"Know what you are building, plan it, make a draught copy somewhere else. Do some math, then go for it"
"If it goes wrong, don't worry, try it again."
"Read tip one again"
Buildings
Joshing: Mainly interested in big buildings.  Likes making small little red stone contraptions around his house, or building for that matter.  Never will give up, very proud of his buildings. Want to see more buildings?  Go to the link below!                         http://mcplayers.wikia.com/wiki/Joshings_Buildings
---
"Whoever shall destroy thee building then thou shall pay the price!"
Ad blocker interference detected!
Wikia is a free-to-use site that makes money from advertising. We have a modified experience for viewers using ad blockers

Wikia is not accessible if you've made further modifications. Remove the custom ad blocker rule(s) and the page will load as expected.