haykam
[[1]]
haykam's current skin in Minecraft.

Name

Hayden

Minecraft Username

haykam; formerly haykam821
haykam is a user who is a good person at parkour and used to like "budder" (gold) when he was a noob. He founded BudderBlock on McProHosting, but then it was taken down by a plugin virus. His dad later fully shut down the server. He later made a new server in May 2015, named PrismarinePrison.
Livestream
Ever since the snapshot that released livestreaming, haykam has been sharing his work to this Twitch stream. He constantly changes account because he forgets his password.
YouTube
haykam has a youtube account currently named Budder Block. He regrets using that name.Another video by a YouTuber named hotbuns497 posted a video about haykam (at the time named haykam821) making a bad pixelart arrow. The link to the video is here. 
Skins
haykam also likes to use Skin Studio for iOS because he can create skins such as his "Glistering" Emerald skin. His current skin is a orange cat made by Sydkam918. The skin has been copied and others have tried to claim that it is their own.
Seeds
haykam uses multiple seed sites and mobile apps to share his seeds, such as his most famous
128IsTwoStacks
seed, which is found originally on
minecraft-seeds.net
. He also uses Seed Explorer to share his seeds on mobile platforms.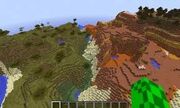 Old Servers
Budder Block, his first server, was taken down by the InfiniteDispenser plugin. He became the owner and manager on MegaPrisonMC, but that server shut down because the original owner, todotodoo, didn't have enough money, and the server got shut down in the fall of 2015. During haykam's time on the server, he met many new friends who would later become staff on the new server.
New Server
On May 3, 2015,haykam purchased a new server from OwnageHosting, later named PrismarinePrison. He invited camkam, his brother, to play, and he came on. He said "it would last more, but maybe less, but donations are needed to keep it running." on his server when asked. His brother, camkam, came on and asked for OP, but abused and haykam deopped him. Due to this, camkam stormed into haykam's room and forced him to reop him. So, haykam got him reopped but he started to say things such as "I'll DDoS you!" in the Minecraft Server's chat. After this, haykam deopped camkam again and banned him with the reason "The Elder Guardian says no DDoS-talk." camkam was later unbanned silently, but banned again after.
Ad blocker interference detected!
Wikia is a free-to-use site that makes money from advertising. We have a modified experience for viewers using ad blockers

Wikia is not accessible if you've made further modifications. Remove the custom ad blocker rule(s) and the page will load as expected.