My name is CubeTron23. My favourite server is Mineplex. I haven't built anything much. Just a few couple of worlds. But I have BIG plans. I'm going to build bridges, farms, mansions, hotels and more! If I can do it in Minecraft: Pocket Edition (MCPE) why wouldn't I build it again here? I am currently building my own house in Minecraft. My favourite minigame is One In The Quiver or OITQ. My favourite mod is well, Optifine.
My skin is like in below. Check me out in servers!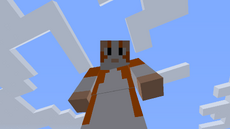 Ad blocker interference detected!
Wikia is a free-to-use site that makes money from advertising. We have a modified experience for viewers using ad blockers

Wikia is not accessible if you've made further modifications. Remove the custom ad blocker rule(s) and the page will load as expected.